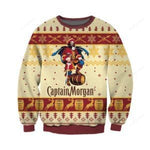 Cheers to the Festive Season: Ugly Christmas Sweaters & a different kind of Spirit-Themed Apparel.  
The festive season is upon us, and it's time to deck the halls, clink glasses, and don our most 'aesthetic' holiday attire. What better way to celebrate than with a blend of humour, style, and a dash of your favourite brew or spirit? That's right - it's the season for ugly Christmas sweaters and your favourite brand themed shirts, making merry moments with friends and family both at home and your beloved local pub!  Find some great options here
Ugly Christmas Sweaters: Cheers to Quirkiness!
When it comes to holiday fashion, the more eccentric, the better! Think reindeer with Santa hats, snowflakes swirling around pints, or Christmas trees adorned with beer mugs. Pair these playful sweaters with your favourite beer or spirit branded shirts for a festive ensemble that's sure to spark conversations and laughter.
Pub Shenanigans: Toasting Good Times with Friends
Don't forget your local pub or favorite hospitality spot! This season is perfect for pub-hopping in your holiday best, celebrating with friends, and spreading the festive cheer. Capture those hilarious sweater moments and branded shirts while creating unforgettable memories with your gang.
Snap, Share, and Spread the Joy!
The beauty of these festive ensembles lies not only in their quirkiness but also in the memories they help create. Snap those merry moments, share the laughter, and cherish the joyous times spent with loved ones. After all, 'tis the season for making memories and capturing the perfect Instagram-worthy shots!
This holiday season, elevate your festivities with laughter, libations, and a touch of festive fashion. Embrace the spirit of the season with ugly Christmas sweaters and alcohol-themed apparel, creating unforgettable moments, and spreading the warmth of togetherness. Cheers to a season filled with joy, love, and fabulous, funky fashion! 🎄🍻✨